Implant Dentist in Vacaville, CA
---
According to the American Academy of Implant Dentistry, approximately three million people in the U.S. have dental implants, and the number continues to grow. Our team has emerged as one of the leading providers of affordable implants. We have been helping people get their smiles back since 2001!
What Are Dental Implants?
Dental implants serve as artificial tooth roots for missing teeth. Implants are made of titanium, which is strong and nontoxic. Titanium implants have a high success rate, due to how favorably they interact with the human body. The titanium implant posts are inserted into the jaw to bond with the natural bone and become a base for the placement of artificial teeth. An abutment, or connector, is then implemented on top of the implant in order to hold the teeth. Implants are made to blend in with your natural teeth, giving you the confidence that comes with a beautiful smile. Dental implants are a healthy way to maintain the jawbone structure and provide you with a stable, permanent and confident smile.
What Is the Bosler Implant and Cosmetic Dentistry Difference?
Dental implants can be very expensive. The cost of the abutment and crown alone can drive the price of the implant into the thousands. So why come to our office? Because we offer the most affordable implants using the best quality products. For many years, we have been providing our patients the option of dental implants at a price they can actually afford.
Some of the reasons our implant solutions are more affordable include:
Quality care at an affordable price: We provide our patients with cost effective and quality products for all of your dental implant needs.
Focused services with high volumes and efficiency: We focus on specific services, which allows us to be efficient and cost effective.
Training and Technology: Our implant dentist and team take part in extensive dental training programs to give our patients the best care.
We will work to give you the healthy and beautiful smile you deserve, at a price you can afford!
Affordable Implant Solutions
Dr. Bruce Bosler offers various types of implants for our patients. These implants are crafted with the best materials and made by our exceptional team of experts. Our team will help you decide which option is the best for you and your smile!
Single and Multiple Tooth Implants:This option provides a robust, permanent long-term solution to replace missing teeth. This includes the use of implants with a bridge or crown to replace one or more missing teeth.

Single Implants: These are used to replace a single lost tooth. A single unit implant includes a metal implant, an abutment and a crown.
Multiple-Tooth Implants: Consists of a select number of implants and a prosthetic bridge that the artificial teeth will be attached to. The number of teeth can vary from patient to patient, with as few as two and as many as 16 (a full arch) being implemented.

Full-Arch Implant Solutions (Screw-In): These solutions cannot be removed by the patient and provide exceptional support and natural-tooth functionality. Some of these solutions include fixed, screw-retained denture systems and high-end, screw-retained zirconia tooth replacements.
Affordable Dental Implants: The Best Solution
The replacement of missing teeth is imperative to your overall dental health. Not only is the ability to chew hindered when you lose a tooth, but unreplaced teeth can lead to the deterioration of the facial and jawbone structure as well as creating problems for the remaining teeth. Putting health issues aside, unreplaced teeth can also significantly diminish self-confidence and appearance.
Dental implants have been the ideal solution for many patients for almost 50 years. At our dental practice, we are the dental implant experts.
The benefits that come with implant-retained dentures are many. Some of these include:
Implants are a long-lasting investment.
They fit properly.
They preserve bone quality and quantity.
They help maintain a youthful smile by giving firm support to facial structures.
They function like healthy teeth to restore normal activities (such as chewing and talking).
They provide strength and durability.
No need for denture adhesives.
Dental implants provide patients with the best way to achieve healthy and beautiful smiles. We help give our patients the confidence to smile, eat and live with natural-looking dental implants. We want dental implants to change your life for the better. Our affordable and efficient dental implants are one of the best options out there! Call our office at 707-449-3661 to learn more about dental implants in Vacaville, California, and schedule a visit with our experienced implant dentist.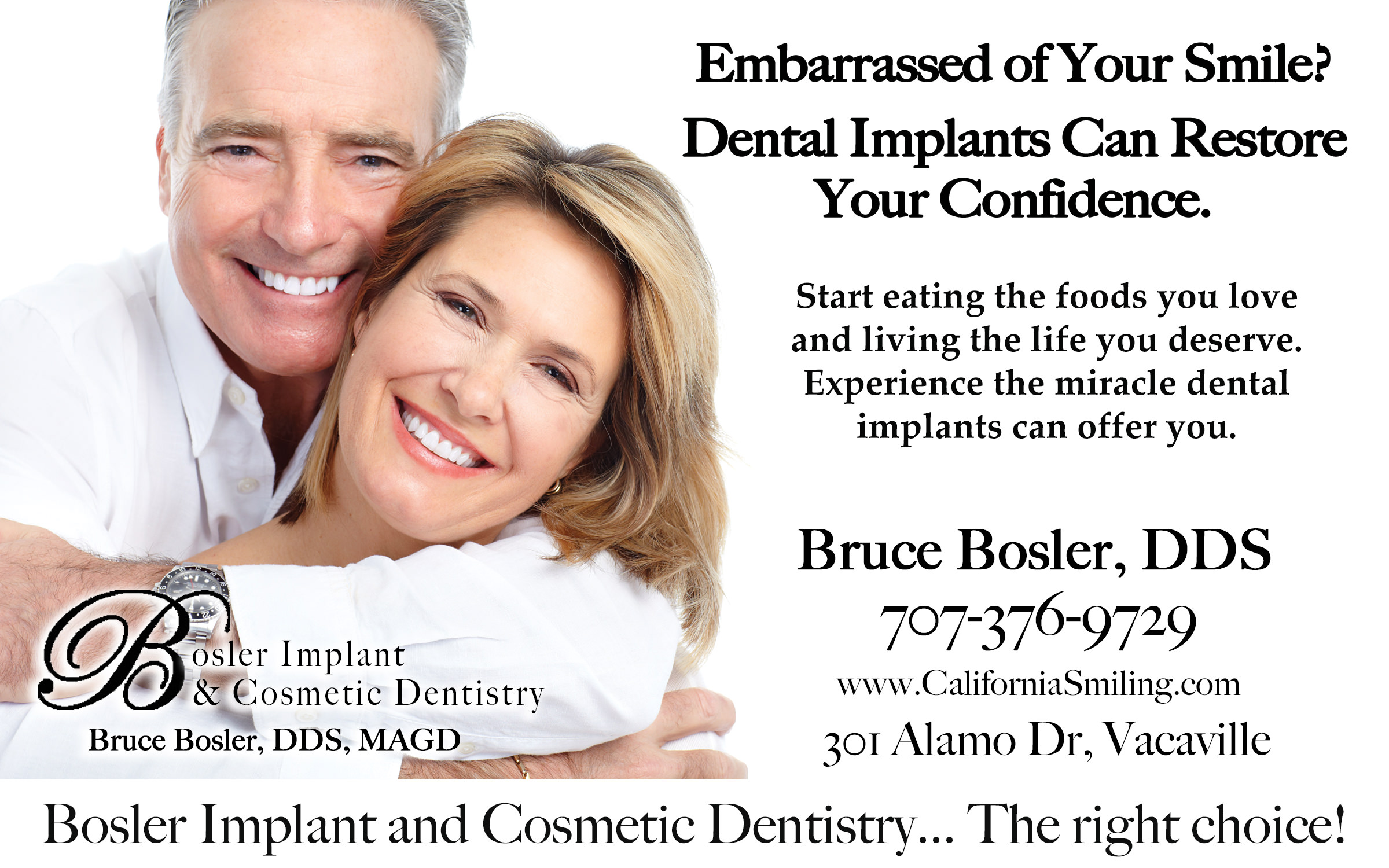 What Our Patients Say About Us
Watch one patient talk about her successful dental implants treatments with Dr. Bosler.